Torremolinos is located in the region Andalusié, the holiday hotspot stretches along the Costa del Sol, 14 kilometres to the south-west of Málaga. The name Torremolinos originates from Torre (tower) and Molinos (mill) as the region used to have a vast amount of windmills. Only one remains today and serves as a restaurant.
Like many other places on the Spanish coast, Torremolinos started as a small fisher's village in the 50 's of the 20th century and grown into a loved and lively holiday destination with tourists visiting the city all year long. The city has a beach stretching out over 6 kilometres where anybody old and young find their ideal holiday spot.
Not much remains of the old fisher's village with the only windmill left turned into a restaurant, which is certainly worthwhile visiting. Should you want to enjoy more of the culture of Torremolinos, visit the old fisher's neighbourhood La Carihuela, there, you will find beautiful old fisher's residencies. Additionally, you will find many local fish restaurants where delicious dishes are served every day. One thing is for sure. When you choose to visit the region Andalusia, you will find beautiful nature sceneries and enjoy a tropical climate. When you travel to Torremolinos by plane, you will arrive at Malaga airport.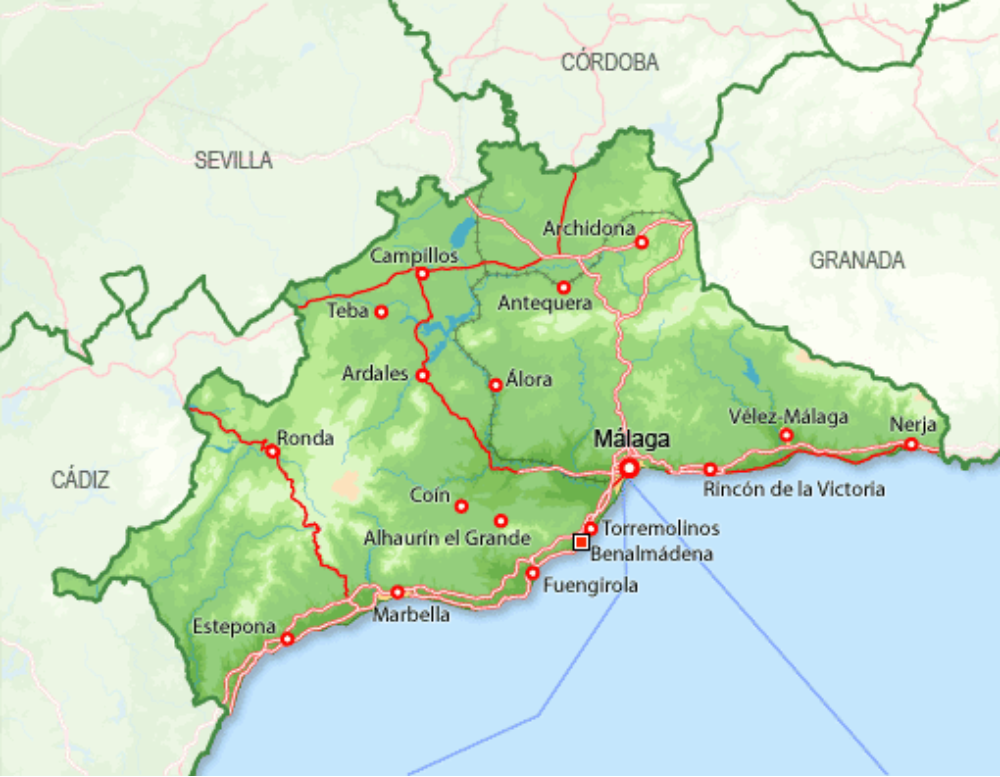 Torremolinos – I love you!
I LOVE TO BE IN TORREMOLINOS
TANNED AND IN LOVE
IN THE COUNTRY OF MY SPANISH AMIGOS
O LALALA O LALALA OLALALA
ALONG THE MEDITERRANEAN SEA
O LALALA O LALALA
DANCE THE FLAMENCO AND SING ALONG WITH ME
TORREMOLINOS I LOVE YOU
I LOVE YOUR BEACHES AND YOUR BLUE WATERS
TORREMOLINOS I LOVE YOU
WITH SANGRIA EVERYBODY SHOUTS OLE
TORREMOLINOS, I LOVE YOU
YOU ARE THE MOST BEAUTIFUL ALONG THE MEDITERRANEAN SEA
TORREMOLINOS, I LOVE YOU
I AM IN LOVE WITH YOUR NIGHTS, ESPAGNA.
YES, FAR AWAY IN SUNNY SPAIN
YOU WILL FORGET ALL YOUR WORRIES IN THE BLINK OF AN EYE
THAT IS WHY I ALWAYS GO TO SPAIN
THAT COUNTRY IS FOR ME THE NUMBER ONE
OLALALA OLALALA OLALALA
THERE ALONG THE MEDITERANEAN SEA
OLALALA OLALALA
DANCE THE FLAMENCO AND SING ALONG WITH US
TORREMOLINOS I LOVE YOU
I LOVE YOUR BEACHES AND YOUR BLUE WATERS
TORREMOLINOS I LOVE YOU
WITH SANGRIA EVERYBODY SHOUTS OLE
TORREMOLINOS, I LOVE YOU
YOU ARE THE MOST BEAUTIFUL ALONG THE MEDITERRANEAN SEA
TORREMOLINOS, I LOVE YOU
I AM IN LOVE WITH YOUR NIGHTS, ESPAGNA
TORREMOLINOS I LOVE YOU
I LOVE YOUR BEACHES AND YOUR BLUE WATERS
TORREMOLINOS I LOVE YOU
WITH SANGRIA EVERYBODY SHOUTS OLE
TORREMOLINOS, I LOVE YOU
YOU ARE THE MOST BEAUTIFUL ALONG THE MEDITERRANEAN SEA
TORREMOLINOS, I LOVE YOU
I AM IN LOVE WITH YOUR NIGHTS, ESPAGNA