Torremolinos ligt in de regio Andalusié, de badplaats ligt aan de Costa del Sol, 14 km ten zuidwesten van Málaga. De naam Torremolinos komt van Torre (toren) en Molinos (molen) doordat er vroeger in deze regio veel windmolens te vinden waren, waarvan er nu nog maar één staat en dient als restaurant.
Zoals vele andere plaatsen aan de Spaanse kust is Torremolinos als een klein vissersdorpje ontstaan en in de jaren 50 van de 20e eeuw uitgegroeid tot een gezellige vakantiebestemming, waar het hele jaar door maar vooral in de zomermaanden veel toerisme naar toe komt. Het heeft een strand van maar liefst 6 km lang waar jong en oud zich prima kunnen vermaken.
Van het oude vissersdorpje is niet veel meer over als de enige windmolen die er te vinden is, wat nu dient als restaurant, maar zeker een bezoekje waard is. Wilt u wat meer cultuur opsnuiven moet u zeker naar de oude visserswijk La Carihuela gaan, hier vindt u de mooie oude visserswoningen, maar ook vele lokale visrestaurants, waar heerlijke gerechten worden geserveerd. Één ding is zeker als u kiest voor de streek Andalusië bent u verzekerd van een mooie natuur en een heerlijk klimaat. Wanneer u naar Torremolinos wilt gaan en u reist per vliegtuig komt u aan op Malaga airport.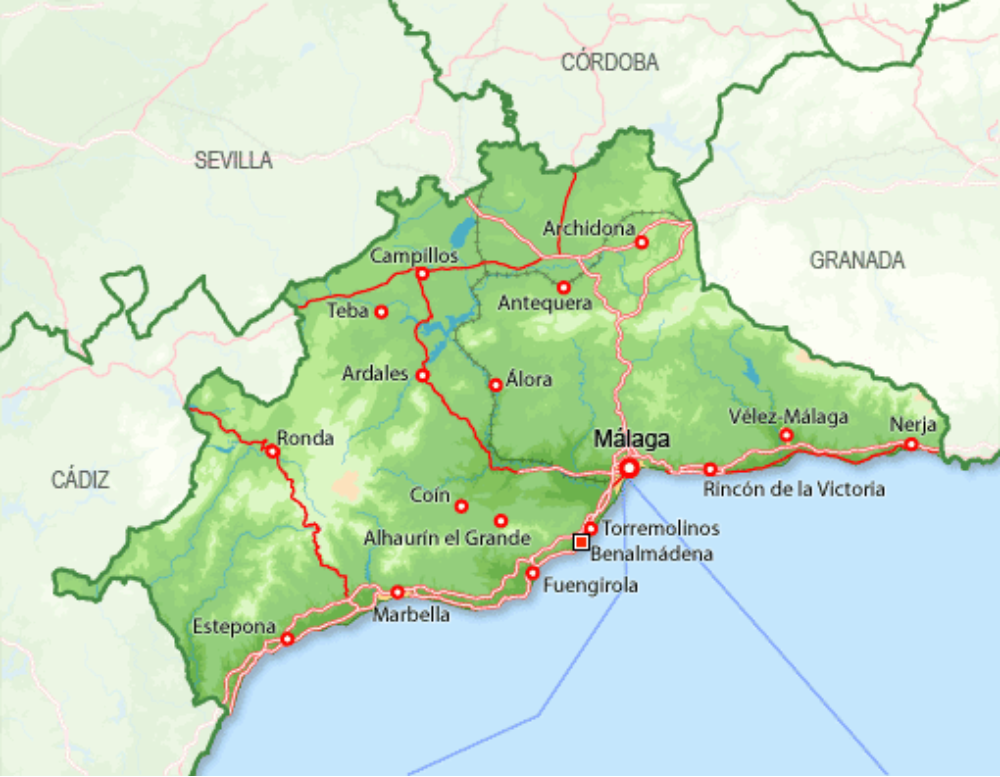 Torremolinos – I love you!
I LOVE TO BE IN TORREMOLINOS
TANNED AND IN LOVE
IN THE COUNTRY OF MY SPANISH AMIGOS
O LALALA O LALALA OLALALA
ALONG THE MEDITERRANEAN SEA
O LALALA O LALALA
DANCE THE FLAMENCO AND SING ALONG WITH ME
TORREMOLINOS I LOVE YOU
I LOVE YOUR BEACHES AND YOUR BLUE WATERS
TORREMOLINOS I LOVE YOU
WITH SANGRIA EVERYBODY SHOUTS OLE
TORREMOLINOS, I LOVE YOU
YOU ARE THE MOST BEAUTIFUL ALONG THE MEDITERRANEAN SEA
TORREMOLINOS, I LOVE YOU
I AM IN LOVE WITH YOUR NIGHTS, ESPAGNA.
YES, FAR AWAY IN SUNNY SPAIN
YOU WILL FORGET ALL YOUR WORRIES IN THE BLINK OF AN EYE
THAT IS WHY I ALWAYS GO TO SPAIN
THAT COUNTRY IS FOR ME THE NUMBER ONE
OLALALA OLALALA OLALALA
THERE ALONG THE MEDITERANEAN SEA
OLALALA OLALALA
DANCE THE FLAMENCO AND SING ALONG WITH US
TORREMOLINOS I LOVE YOU
I LOVE YOUR BEACHES AND YOUR BLUE WATERS
TORREMOLINOS I LOVE YOU
WITH SANGRIA EVERYBODY SHOUTS OLE
TORREMOLINOS, I LOVE YOU
YOU ARE THE MOST BEAUTIFUL ALONG THE MEDITERRANEAN SEA
TORREMOLINOS, I LOVE YOU
I AM IN LOVE WITH YOUR NIGHTS, ESPAGNA
TORREMOLINOS I LOVE YOU
I LOVE YOUR BEACHES AND YOUR BLUE WATERS
TORREMOLINOS I LOVE YOU
WITH SANGRIA EVERYBODY SHOUTS OLE
TORREMOLINOS, I LOVE YOU
YOU ARE THE MOST BEAUTIFUL ALONG THE MEDITERRANEAN SEA
TORREMOLINOS, I LOVE YOU
I AM IN LOVE WITH YOUR NIGHTS, ESPAGNA